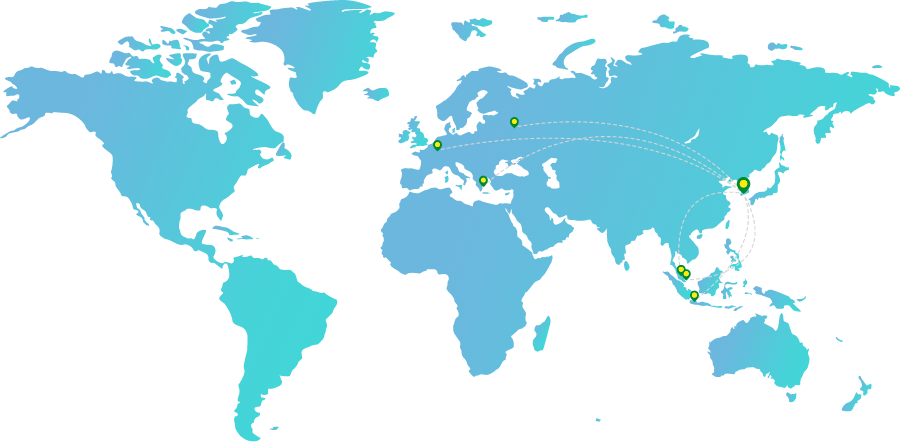 Vinssen is expanding to the world.
Reaching out to the world, Vincennes realizes environmental protection and energy efficiency at the same time through cutting-edge technology and innovative design, and provides solutions for clean and sustainable marine transportation.

VINSSEN plays a leading role in the green ship market, developing innovative marine technologies for a sustainable future.
Domestic
HEAD OFFICE
158, Daebuljugeo 1-ro, Samho-eup, Yeongam-gun, Jeollanam-do, Republic of korea
+82 61-462-7004
+82 51-980-7004
business@vinssen.com
Ulsan Branch
#311, 37-19, Techno saneop-ro 55beon-gil, Nam-gu, Ulsan, Republic of Korea
Gyeong-Nam Branch
1350, Ceojebuk-ro, Jangmok-myeon, Ceoje-si, Gyeongsangnam-do, Republic of Korea
Gyeong-Buk Branch
7, Yeongilmansandannam-ro 37beon-gil, Heunghae-eup, Buk-gu, Pohang-si, Gyeongsangbuk-do, Republic of Korea
Gangwon Branch
#207,27, Eonjang 1-gil, Samcheok-si, Gangwon-do, Republic of Korea
Overseas
SINGAPORE OFFICE
9 Straits View, Marina One West Tower, #05-07, Singapore, VINSSEN INTERNATIONAL
+82 70-4252-0194
+82 51-980-7004
business@vinssen.com
Luxembourg Agency
Avenue du Bois, L-1251 Luxembourg, Luxembourg
+352 621499593
+82 51-980-7004
ukychoi@vinssen.com
Greece Agency
4, Skouze Str.,185 36 Piraeus, Greece INTRA MARE
+30 210 4293843
+30 210 4293845
g.gerassimou@intramare.gr
Russia Agency
KORPROD, 190121, Russian Federation, St. Petersburg, st. Soyuz Pechatnikov, d.13-15, Lit.A, Room 1-N, office 2
+7 921 922 60 44
+82 51-980-7004
sinwoosik@mail.ru
Malaysia Agency
26th Floor, Menara Maxis, Kuala Lumpur City Center 50088 Kuala Lumpur, Malaysia
+603 2615 2755
+603 2615 2699
shahrir@vestera.com.my
Indonesia Agency
JAPFA Tower II Floor 12, JI, Panglima Sudirman Kav, 66-68, Kota Surabaya - Jawa Timur 60271
+62 031 6001 8557
+62 813 9467 9955
iqbal.safitra@tbmmarine.com